How do companies manage to maintain a production location in Switzerland?
The answer is AUTOMATION. Thanks to fully automated production processes, labor costs can be kept low. AGFAR has been a reliable partner in this field for over 35 years. We not only develop automatic machines tailored to the needs of processing and assembling your product; we also advise you on automation-friendly product design.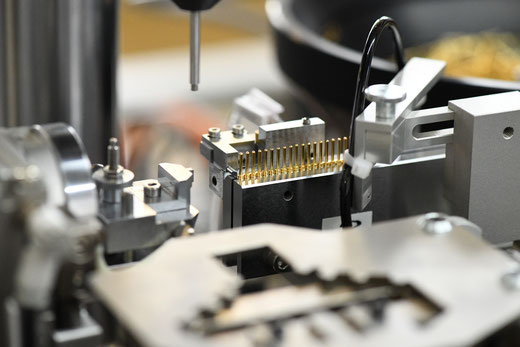 The following case study testifies to the success of our many years of experience:
Automatic assembly of D-Sub connectors
Millions of connectors are produced for the electronics industry, so one might well assume they are imported from Asia. However, the successful Swiss family business Deltron AG relies on smart and flexible automation solutions from AGFAR .
The solution from AGFAR
✓ Highly flexible and universal custom machine for small batch sizes and customized connectors
✓ 4 pin mounting stations for fast cycle times (< 1 s/pin)
✓ Flexible connector handling with a central SCARA-Robot
✓ Vision detection for connector recognition to eliminate tool changes
✓ Vision inspection to guarantee high product quality 
✓ Short changeover time thanks to optimized tool design
✓ Wireless control panel for easier machine setup
---
Are you also looking for a special purpose machine to boost your productivity?